" More Than Words" was originally intended to be w ritten as a Do It Yourself Manual for people who were recovering in a Twelve Step Program. What it turned out to be was a journey into the soul.
In self-help,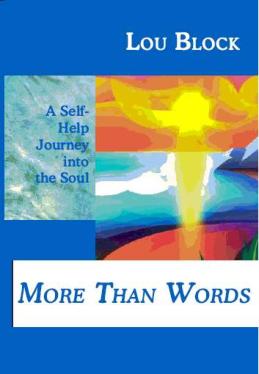 most members do not know the process of recovery... can only verbalize that it's a process ... although have no knowledge of its workings. Neither do they have much understanding of their own psychological structure. Most blunder, guess at what is normal, and continue to make dysfunctional decisions in their lives in spite of the fact that they want it different.
"More Than Words" addresses both issues, teaches them about their inner workings, and walks them through the process. Included in the books construct is a theory of personality development which succinctly states how their addiction, codependency or unhappiness began... identifies how the various aspects of their life are being effected (relationships with self and others, spirituality, and vocation)...and a roadmap out of its confusion. .
"More Than Words" is for anyone trying to understand more about themselves, others, or wanting to increase the quality of their relationships, whether its with their love object, family, friends or co-workers.